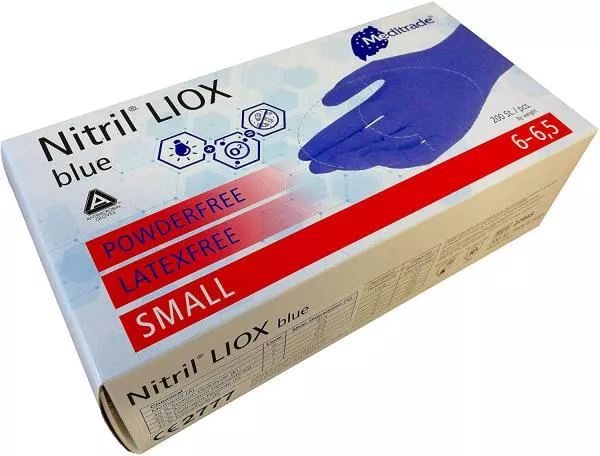 You need larger quantity for less conditions ?i
Visit us on bagobag.com
Tested quality gloves
Product decription:
The powder-free and non-sterile disposable glove Meditrade Nitrile Hygiene Gloves LIOX is suitable for use in the medical field. Their processing ensures naturally good tolerance and reduces allergic reactions. The gloves are used in both human and veterinary medicine, food industry, household, cosmetic treatments, workshop and many other areas.
Material:
Nitril
Color:
blue
Particularity
:
ambidextre, non-poudré, non stérile, sans latex, texturé au doigt, doux pour la peau, adapté au contact alimentaire
Usability: disposable 
Size:
Lenght:
Conty of manufacture:
Examination and protective gloves
Informations:
Delivery terms:
- Germany: 2-3 days after order.
- Austria & Switzerland: within 3-4 days after order.
Expedition:
- Austria: Express 25 € per carton
- Switzerland: Express 30 € per carton.
Content:
100 gloves per packaging unit (PU).
Keywords:
Examination gloves, protective gloves, disposable glove, disposable examination gloves
Unfortunately there are no review yet. Be the first who rate this product.