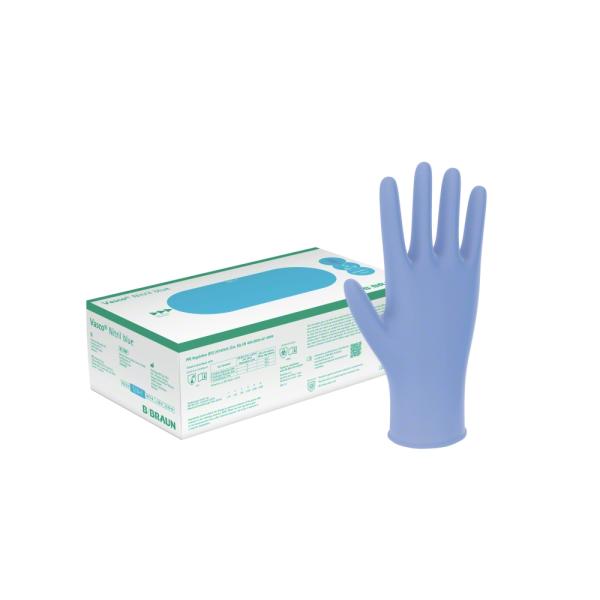 Need larger quantities, for less condition?
Visit bagobag.com
Available immediately, while stocks last
Product description:
Vasco nitrile gloves
combine high safety standards and pleasant wearing comfort. They comply with numerous standards such as EN 374, EN 420 and EN 455. Instructions for use included in the package.
Size: S
Gewicht:
0,5kg
Vasco Nitril Hygiene gloves BLUE S
The disposable gloves are powder-free, latex-free, liquid impermeable and virus-proof according to ASTM 1671.
Information:
Additional specifications can be found in the product data sheet. A high degree of finger dexterity, pleasant wearing comfort and a very good sense of touch also characterize the protective gloves. The textured surface on the fingertips provides improved grip. The insides of the gloves are chlorinated. Since no natural latex is contained, there is no risk of intolerance reactions. Contains dithiocarbamate. Check for damage before use, do not use damaged gloves Dispose of in accordance with applicable local regulations. The EU Declaration of Conformity has been issued in accordance with Regulation (EU) 2017/745 on medical devices and Annex I of the PPE Regulation (EU) 2016/425. The Notified Body BSI, 0086 has performed the EU Type Examination (Module B) and issued the EU Type Examination Certificate CE 708514.
Delivery terms:
- Germany: 2-3 days after order.
- Austria & Switzerland: within 3-4 days after order.
Shipping:
- Austria: Express 25 € per carton.
- Switzerland: Express 30 € per carton.
Content:
150 gloves per packing unit (PU) 
Brief keywords:
Nitrile gloves - Nitrile gloves - Nitrile disposable gloves - Nitrile powder-free - Protective gloves - Work gloves - Hygiene gloves - Disposable gloves - Disposable gloves.