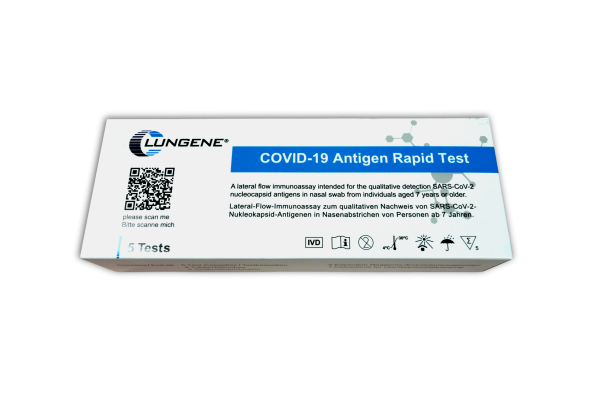 Fast delivery of high quality rapid test

Description: Clungene COVID-19 Antigen Rapid Test is a lateral flow immunoassay for the qualitative detection of SARS-CoV-2 nucleocapsid antigens in nasal swabs from individuals 7 years of age and older.
Results within 15-20min.

BfArM registration number: AT079/20

Specificity: 99,4%
Sensitivity: 97,10% (Ct-Wert ≤ 33)

Delivery:
- Germany: within 3 days after order.
- Austria & Switzerland: within 5 days after order.

Shipping:
- Austria: Express 35 € per carton
- Switzerland: Express 40 € per carton
Carton dimension: 48x59x46cm


Evaluated by the Paul Ehrlich Institute.

The Federal Institute for Pharmaceuticals and Medical Devices (BfArM) has approved this antigen test for self-use by laypersons.

This means that you can test yourself for SARS-CoV-2 infection quickly and easily at any time.

Whether visiting family or in restaurants and other public as well as cultural institutions. Self-testing is becoming an important part of pandemic containment efforts.
Content: 5 test kits per packaging unit (PU)
Each test kit is again individually, conveniently and securely packaged.
---
Kurzstichworte: Antigentest Laien kaufen • Selbsttest negativ • Selbsttest zu Hause Corona • Antigen Test machen • Selbsttest Laien • Antigen Test Schnelltest • Selbsttest Unternehmen kaufen • Selbsttest verpflichtend • Selbsttest vorderer Nasenbereich • Schnelltest wo kaufen • Selbsttest wie weit in die Nase • Selbsttest vom Arbeitgeber
Unfortunately there are no review yet. Be the first who rate this product.